Prophecies
---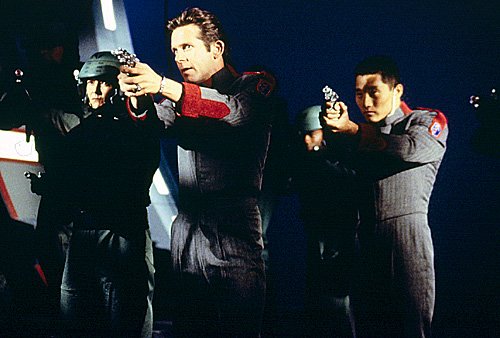 ---
As you proabably know "Crusade" has been canceled. Does that mean that the fans cannot speculate on what is to come. Of course not! Here are a few of my own prophecies...
---
The last episode written by jms was "End of the Line," further comments from jms revealed that it would have required lots of special effects to be produced, with that clue in mind I'm guessing that maybe the Drakh have a massive attack on the Earth Alliance. In retaliation, lead by the Excalibur, an Earth Alliance fleet takes the offensive...
More ideas coming soon...
---
The Who do you serve and who do you trust could certainly be the theme of the show, however in a sense it mirriors the theme of Babylon 5. Specifically the relationship with the Vorlons, the Earth Alliance Civil War, Talia Winters...the list goes on.
---
This is not really a prophecy, recently though Walter Koenig (Bester) disclosed one of his line in a future episode that was not produced:

"I did what was necessary. There were casualties on both sides of the war. The difference is, when you win the war, you're a hero; when you lose, you're a war criminal. There were things I did that the current administration disapproves of because they are the heros and I am the war criminal. But if the tables were turned, I could easily accuse them of the same crimes. No, I'm not going to turn myself in. I did what was right. They'll never be able to prove otherwise, because in the end, everything I did was for my people."